The utilization of brownfields for solar development is expected to have a significant impact on our country's transition toward renewable energy. In recent years, there has been a notable rise in renewable energy projects being established on land that was previously underused or contaminated. Several factors have contributed to this growth, such as favorable policies, increased demand for clean energy in urban regions, new incentives from the Inflation Reduction Act and a better comprehension of the potential of this model. In short, the combination of solar energy and brownfields is a natural fit that can provide significant benefits to developers, communities, and local governments.
Underused but Abundant Land
Brownfields refer to land that has been previously developed, commonly found in urban areas, and often owned by state and city governments. Examples include old coal mines, landfills, closed industrial plants, and superfund sites. Due to contamination or physical instability, these sites are generally regarded as unusable for farming or commercial or residential homes or buildings.  When converted into solar energy sites, they are often referred to as "brightfields."  This type of solar project pays annual lease rent to the land, which creates an alternative revenue stream to the landowner for this difficult land changing it from a liability into an asset.
The U.S. Environmental Protection Agency (EPA) and National Renewable Energy Lab pre-screened almost 200,000 brownfield sites and performed site-specific analyses of potential landfill solar farms. Estimates are that 13,000 sites of the over 450,000 brownfields in the U.S. could be repurposed. These numbers represent an exciting opportunity.
The Unique Advantages Of Brownfield Development
Solar developers can benefit greatly from pursuing solar arrays on brownfields and landfills. These sites typically have good sun exposure and pre-existing infrastructure such as road access, transmission corridors, and load demand. Compared to developing on greenfields, which can involve neighborhood opposition, brownfields offer advantages due to their limited redevelopment potential. Additionally, greenfields are frequently reserved for alternative development, such as mixed-use apartments or housing. The abundance of brownfields is particularly useful for developing sites in or near urban areas where land is scarce and demand is high.
Tapping brownfield and landfill sites for solar can be a boon for local residents and businesses. These sites are frequently found in low-income and underserved communities that are disproportionately impacted by climate change. Constructing solar energy infrastructure on these unattractive sites can contribute to the revitalization of these communities by creating job opportunities and enhancing economic development. In addition, if municipalities and developers implement community solar models, local residents and businesses can enjoy reduced electric bills.
Local governments can also benefit from solar development on brownfield and landfill sites. By selecting sites where there is less opposition from the community, municipalities can reduce costs and offer lower-cost leases to developers. For example, Director of the Indianapolis' Office of Sustainability Morgan Mickelson began looking to landfill solar development to meet the city's renewables goals in a way that brought intersectional benefits of job creation and less reliance on coal. Mickelson said that with landfills, "if you're able to determine there's no other better reuse for this land, it seems like a really smart investment for the community." Furthermore, Solar projects are taxed, bringing revenue to the local government.
A Proliferation of Brightfields
Municipalities and developers are pursuing brownfield and landfill solar development in greater numbers. In 2021 local governments in the U.S. announced a total of 207 MW of energy from 21 landfill solar projects, representing a 10-fold increase in energy capacity compared with recent years.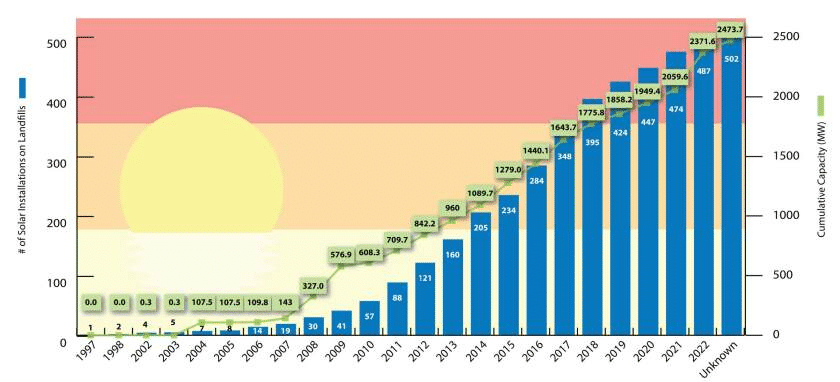 Annual Growth in Solar Installations on Landfills (EPA)
Brightfield projects are cropping up in places like Urbana, Illinois; Annapolis, Maryland; Edison, New Jersey; and Martha's Vineyard. The State of Michigan is repurposing state properties and lands for renewables use, transforming two former mining properties into large-scale solar systems. Ann Arbor and Pittsfield Township brokered an aggregation deal for a 24 MW landfill solar project that will offset all of Pittsfield Township's municipal electricity and enable Ann Arbor residents to subscribe and lower their energy costs. Standard Solar has developed a number of brightfields, including an array on a landfill in Stafford, Connecticut and a 17-acre, 3.2 MW system on a brownfield in Wallingford, Vermont.
Brownfield projects are becoming increasingly ambitious. In Columbus, Ohio, a 50 MW brightfield system is in the works while a 70 MW Houston solar farm is planned on a 240-acre landfill that will power 12,000 homes and include an electric vehicle charging point, a bio-digester, and a community garden.
Policies That Mitigate Barriers To Adoption
Supportive federal and state policies are ushering in the growth of brownfield solar development. However, building solar infrastructure on brownfields can be challenging due to additional upfront costs and regulatory oversight from multiple agencies. Specialized design and engineering are also required because of the unique nature of the land on which they are situated.
Recent legislation has helped alleviate these complications. The Inflation Reduction Act brought additional tax credits for building solar on landfills and other brownfields that are sited in or benefiting low-income communities. Combining the IRA incentives might mean that a brownfield site receives anywhere between a 40-50% ITC.
A number of states have implemented supportive legislation. New Jersey's RPS offers a brownfield carve out while Maryland excludes large brownfield solar projects from its net-metering cap. Massachusetts has additional subsidies for landfill renewables projects and offers technical assistance. As a result, the state possesses 52% percent of utility-scale landfill solar projects in America.
Many regions have incentives and grants encouraging the cleanup and revitalization of abandoned commercial land. Policies that encourage lease agreements with developers that site on brownfields shorten permitting and zoning timeframes.
A Solution That Forwards America's Energy Transition
The development of brightfields can play a crucial role in achieving ambitious sustainability and environmental justice objectives as part of a comprehensive nationwide clean energy and land-use strategy. As The Rocky Mountain Institute put it, "the time is ripe to shift brightfields from an emerging practice to a mainstream opportunity." It is clear that the solar industry, governments, and our communities can do much to make this a reality.