Moving into the new year is ideal for assessing critical issues in solar and the broader renewables markets and considering the factors that will shape our country's transition to a clean energy economy in 2022 and beyond. In 2021 Standard Solar more than kept pace with the industry's steady growth, embracing opportunities as they presented themselves while navigating the uncertainties with the responsiveness and hard work that are hallmarks of our business success.
2021 was a seminal year for renewables growth. By the end of Q3, America had added another 16 gigawatts (GW) of solar, pushing the amount of total deployment to 100 GW. Not surprisingly, 2021 was a tremendous year for Standard Solar. We acquired and/or developed, and turned on more than 189 megawatts (MW) of this solar over the year.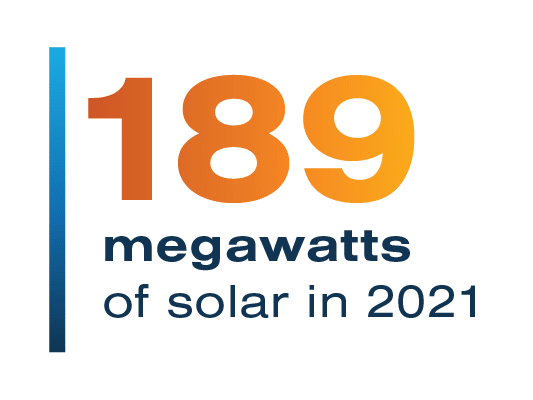 The next few years represent an essential turning point in the clean energy revolution. The nation's renewables portfolio needs to expand by 15% per year to achieve the 2035 low-carbon milestone set by the Biden Administration. Our team continues to work diligently supporting these federal goals and goals set by the states to deploy solar and solar+storage.
More Americans than ever before are concerned about global warming, and they have become increasingly invested in transforming the way our nation produces and consumes energy. As the renewables industry grapples with the ripple effects of the pandemic, our team is optimistic about this transformation. Still, we understand that adjustments need to be made in the renewables industry regarding technological advancement, infrastructure reform, and state and federal policy.
The impact of policy on the industry and our strategy
In 2021 new federal leadership and the resulting legislation meant renewed confidence in our country's ability to combat climate change. Forecasts remain optimistic given the potential impact of the Build Back Better Act on climate-related spending and solar deployment, including the inclusion of a 30% investment tax credit (ITC) on stand-alone energy storage.
There is some lingering uncertainty around policy as we move into 2022, given factors including the tariff on imported solar components, alterations to California's net energy metering and management of supply chain issues. And, development in certain parts of the country has become more complex, and interconnection costs and timeline issues make some Northeast states more challenging for projects.
Fortunately, Standard Solar's strong balance sheet, veteran team and meticulous planning will allow us to weather some of these rising costs and long delays in that region. And our 2022 search for viable long-term single offtaker projects will move us to expand further into other, more supportive states such as Illinois, Oregon and Minnesota, and possibly New Mexico and Pennsylvania.
Standard Solar and market challenges
Despite several difficulties around policy and pandemic-related complications, Standard Solar experienced remarkable growth in 2021. We acquired commercial and community solar assets in 12 states and were ranked as the fifth-largest owner of commercial solar assets in the U.S. by Wood Mackenzie and sixth in the Solar Power World's Top U.S. Commercial Solar Contractors list. And we are not slowing down, with approximately 125+ MW of solar projects planned for 2022.
However, several challenges in 2022 will affect our industry's ability to create a foundation that ensures employment, installation, ownership and financing success. A priority must be the modernization of the US power grid to eliminate the bottleneck of almost 500 GW of solar projects waiting to be connected. Integral to upgrading the energy infrastructure is an investment in transmission, distribution and substation infrastructure and comprehensive legislation that supports it.
Energy storage plays a vital role in this development, given its ability to allow for the storage of electricity at key points along the grid. Additionally, the increase in weather-related events coupled with a post-pandemic workforce that continues to largely work from home has meant a greater desire for resiliency. Partly in response to this, 20% of our planned projects for 2022 possess a co-located storage element. Pairing additional future projects with storage and retrofitting existing installations may be something we explore as well, provided that the battery storage market can experience more commercial viability via grants and incentives.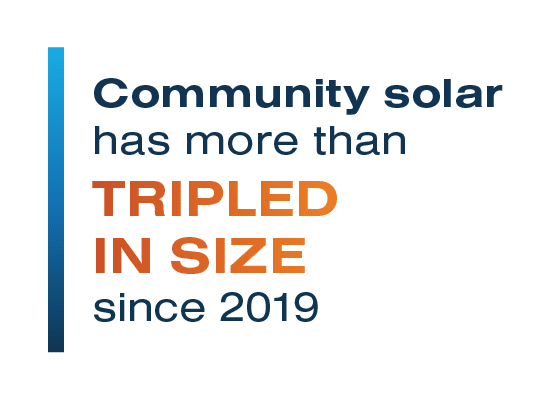 Predictions are that the global solar energy sector will grow at an average of 13% per year over the next decade and that job growth in America and abroad will keep pace with it. This year there were an estimated 250,000 Americans employed in the solar industry — and we will need to at least triple those numbers to support Biden's climate goals for 2035. To keep pace with industry demand and our own growth, Standard Solar expanded its team by a third in 2021 with the addition of 28 new employees, including Song Yi as Chief Financial Officer.
Game-changing models and technology
Critical to transforming our country's power sector is our ability to embrace innovative solar models and technology.
Community solar has more than tripled in size since 2019, and state policies that support it have grown along with it. Standard Solar's deep expertise in community solar development and funding helped us expand our portfolio significantly in 2021. The year saw us developing and acquiring assets in our home state of Maryland, including a 24 MW project across five counties, and increasing our footprint further into Minnesota, New York, Maine, Massachusetts and Oregon.
Community solar is unique in that it promotes equity in solar and increases solar access for all. Its structure enabled us to include carveouts for low- and middle-income subscribers for three of our projects last year and is a model that will continue to serve us well this year.
Equally promising is technology such as solar EV charging stations and NREL's permitting SolarAPP+, as well as innovations like thin-film solar cells, building-integrated PVs, and solar fabric. Overall, investment in climate-related technology has experienced a significant increase this year, with the potential for more growth in 2022. The creation of our Innovations group in July of 2021 means that Standard Solar is already exploring ways of integrating new technologies and business models to broaden our services and increase our market competitiveness.
Underscoring the clean energy transition
The future of solar and other renewables is bright and serves as a beacon of hope for many of us worn thin from the effects of life under the pandemic. Essential in the progression of the clean energy movement into 2022 and beyond is our nation's ability to pursue policies and develop the underlying infrastructure and technological supports that will help transform a reality. The Standard Solar team will continue to successfully acquire and develop projects by dipping into its considerable well of expertise in solar project development, financing and management to forward the nation's energy transformation as we move into the new year.
We look forward to an exciting and successful year for everyone in renewable energy!