As a leader in the solar industry, Standard Solar is committed to promoting awareness and understanding of solar energy and the pivotal role it has in shaping the future of U.S. electricity production.
So when Montgomery College Chemical and Biological Sciences Assistant Professor Kiersten Newtoff asked us if we would talk to her class of 25 students about the solar array we built at South Germantown Park just 15 minutes away from their campus, we were honored. We sent our solar ambassadors Will Jurith, portfolio asset manager, and Jimmy Payne, commercial superintendent & solar technician, to engage with these future solar consumers, leading them on a tour of the solar array.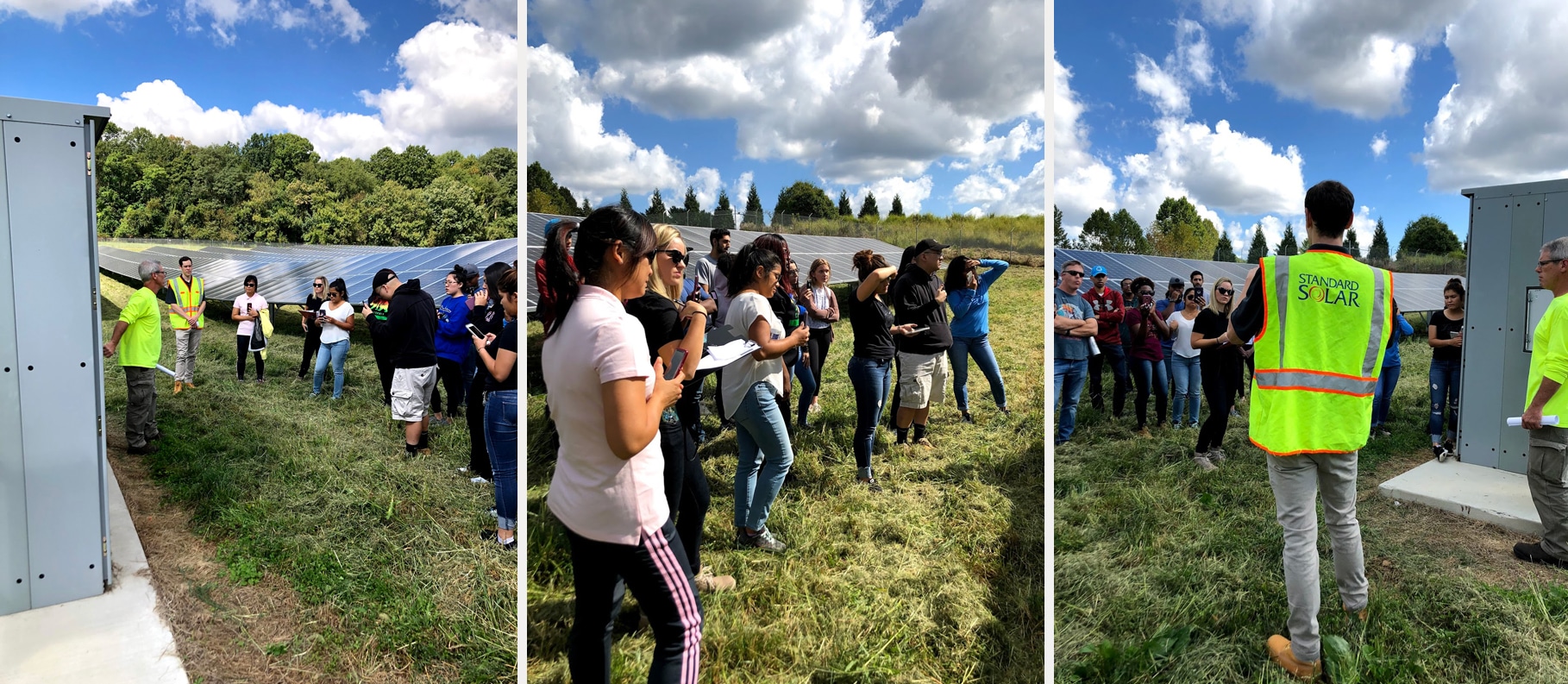 Professor Newtoff, who is an area resident, first learned about Maryland-National Capital Park and Planning Commission, Montgomery Parks' 7,000-panel project at last year's "switch-flipping" event. After, she thought it would be an exciting opportunity to teach her students that solar power is everywhere—even in their own backyard.
"I was here when they powered the array up [in 2018] and I thought it was cool that such a big array was so close to our own campus," Newtoff said. "Most of the students didn't know about it, and I wanted to give them the opportunity to learn about the really cool initiatives that are happening in our town."
During the tour, held on a beautiful fall day, the students were enthusiastic and quizzed Jurith and Payne on everything from how the photovoltaic effect works to why inverters need fans to keep them cool from the excess heat the electrical wires give off. The students asked intelligent, thoughtful questions, and our team was thrilled to talk about the solar array and the value it brings to the community.
Most students admitted that before visiting the array, they didn't know much about solar power. But the opportunity to learn about the South Germantown Park array opened their minds to the possibilities of solar power in the coming decades.
"It's going to play a huge role in the future of the United States," said one student after the tour. "Even the cars are going solar now—why can't we run everything off solar power in the future?"
Newtoff said she was pleased with the class participation and that she hoped the students' eyes were now more open to what's taking place in the solar industry, the way hers were after attending the kickoff event in 2018.
"Before I attended Montgomery Parks' "Power Up" initiative here last year, I had no idea that we were building such a powerful array right here in our own backyard. Initiatives like this are absolutely crucial moving forward as all of us strive to battle climate change, each in our own way," Newtoff said.
"I hope this gives students the opportunity to learn that projects like this are going on in the world, even if they don't know about them currently," she added. "I'm hoping it will inspire them to someday consider putting solar on their own homes or at the very least support projects like the one they've seen today."
We were happy to do our part to educate these students and encourage them to spread the word about the power of solar, and why it is important now and in the future.