Header Photo: Prince Harry solar installation. Photo credit: PanelClaw/Sunfixings
Could the newest royal couple finally finish the work Prince Charles started?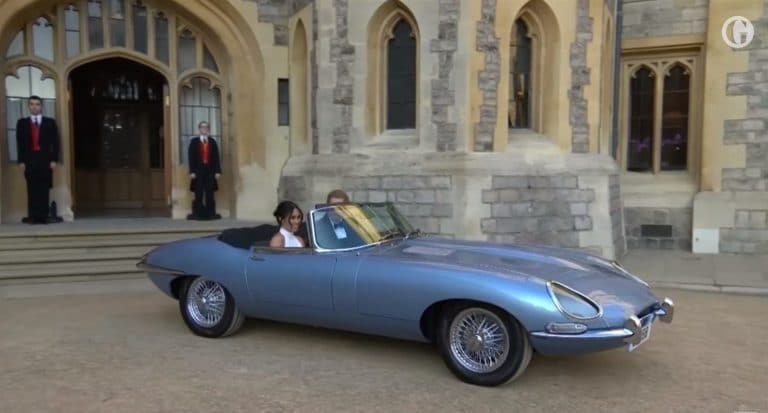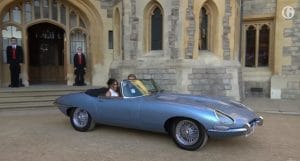 When Prince Harry and TV drama Suits star Meghan Markle became the Duke and Duchess of Sussex, they signaled to the rest of the world that they are ready for the next generation of transportation, driving to their swanky post-nuptials party in a vintage 1968 E-Series Jaguar convertible.
Only thing was, you didn't hear the roar of the traditional Jaguar motor because the newlyweds had the car modified with a new drivetrain and an electric motor to replace the traditional internal combustion engine.
It's no surprise that this latest royal couple might be ready to join the energy revolution, of which solar will play an enormous role. First of all, Markle has long been a sustainability activist, something unlikely to change in her new role. And Prince Harry was captured two years ago installing solar panels on the roof of a Nepalese school that had been rebuilt after an earthquake had destroyed it—so he clearly has an understanding that the future of energy is solar (and that, not inconsequentially, that future is now).
It must be noted that Harry and Meghan are not the first royals to get on board with renewable energy. After all, Prince Charles put solar panels on Harry and William's childhood home to make it self-sustaining years ago. But this time, it's not just an outlier of the family—it's the next generation that actually has a chance to be the change of which Prince Charles could only dream.
Imagine, just for a minute, if the Duke and Duchess decided to make solar energy their cause. They could install it on their own home and encourage other Britons to do so. With their combined charisma, Harry and Meghan could single-handedly restart the Solar Revolution in the United Kingdom, which started strong but then faltered as debates over what came after the wildly successful feed-in tariffs got tangled in party politics.
And since Markle is an American (and an American celebrity at that), maybe their commitment to clean energy will affect the United States, too. Just think about how many new clean-energy acolytes they could convert if they used their new international platform to preach the benefits of solar. Now that's a British invasion I could really get behind.
So I wish nothing but the best for the seemingly happy pair of newlyweds. They've done their parents proud. Their vehicle choice spoke what I hope will be volumes about where their minds are when it comes to the future of energy—and I can't wait to see what they do next.