ROCKVILLE, Md. — Standard Solar, Inc., a recognized leader in the ownership, development, operation and funding of commercial and community solar assets, and SolarPark Energy, a New York-based community solar developer, today announced the completion of a 7.1 megawatt (MW) community solar project in York, New York. Standard Solar funded the construction and will own and operate the project long-term.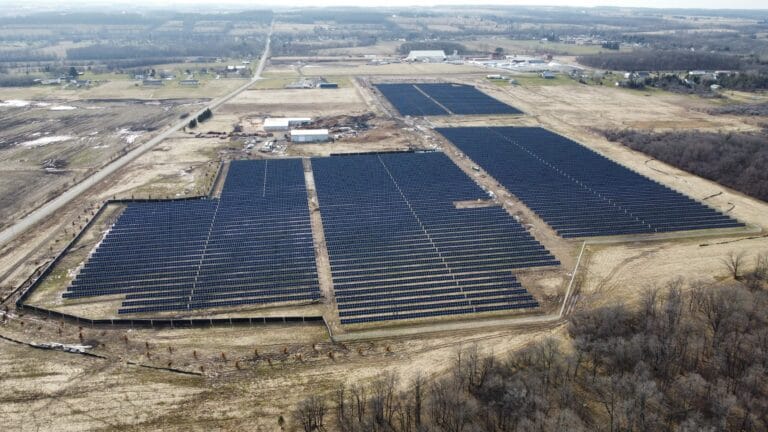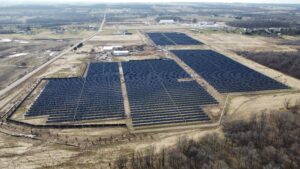 SolarPark Energy developed the project, and Catalyst Power Holdings LLC ("Catalyst Power"), an integrated provider of cleaner energy solutions for the commercial and industrial sector, is managing subscriber acquisition and customer service for the project.
The single-axis tracker system is projected to produce approximately 10,794,000 kilowatt-hours annually and will allow local residents and businesses to benefit from clean energy savings by offsetting their electricity bills with solar energy.  The project is dedicated to the late Thomas Guzek, founder of SolarPark Energy.
"A native of New York, Tom was a tireless renewable energy advocate for the state, and he worked relentlessly to bring the benefits of solar and clean energy to the community of York," said Daryl Pilon, Director of Business Development, Standard Solar. "Working with Tom and Anne Cassidy to bring this project to closing was a truly rewarding experience. We're proud to honor Tom's memory by dedicating this project to him."
"It warms my heart that this project is being dedicated to Tommy," said Anne Cassidy, Managing Partner of SolarPark Energy. "He worked so hard on this and many other projects. His vision from 2015 was to help facilitate the slowing down of global warming. He wanted to do all he could to leave future generations a better world. The driving force behind his vision was for everyone to have easy access to solar energy without solar panels, whether it is a business, people in homes, or even people renting apartments. He was so glad that this project was going to succeed."
"I would like to thank the Town of York, SolarPark Energy's civil engineer Dave Ingalls of Ingalls and Associates, and Daryl Pilon and his team at Standard Solar for their guidance in bringing this project over the finish line after the loss of Tommy, who worked relentlessly throughout his last days," continued Cassidy.
In March, New York officials announced the state had reached a considerable milestone — more than 1 GW of community solar generation capacity installed across the region. According to New York Governor Kathy Hochul, New York has the nation's largest pipeline of community solar under construction, with more than 700 projects in the queue.
"In addition to benefiting hundreds of local businesses and residents, this project brings New York one step closer to meeting the goal of the state's Climate Act to generate 70% of New York's electricity from renewable energy by 2030," added Pilon.
The project is complete and fully subscribed through Catalyst Power. Catalyst Power recruits multiple smaller commercial subscribers, which provides community solar projects a safer, more resilient foundation of support while spreading solar's benefits to a wider community of local businesses. New York's community solar program provides residents and businesses the opportunity to save up to 10% on their utility bills while supporting local green energy development.
"Catalyst Power is committed to helping commercial and industrial businesses access clean energy solutions that deliver savings," said Gabe Philips, CEO of Catalyst Power. "New York's community solar program is among the fastest and easiest ways for businesses to save money while supporting the local community. We're thrilled to be working with Standard Solar and SolarPark Energy to fully subscribe the York community solar farm."
About Standard Solar
Standard Solar is powering the nation's energy transformation – channeling its project development capabilities, financial strength and technical expertise to deliver the benefits of solar, as well as solar + storage, to businesses, institutions, farms, governments, communities and utilities. Building on 18 years of sustainable growth and in-house and tax equity investment capital, Standard Solar is a national leader in the development, funding and long-term ownership and operation of commercial and community solar assets. Recognized as an established financial partner with immediate, deep resources, the company owns and operates more than 280 megawatts of solar across the United States. Standard Solar is based in Rockville, Md. Learn more at standardsolar.com, LinkedIn and Twitter: @StandardSolar.For project acquisition and development inquiries, contact Daryl Pilon, daryl.pilon@standardsolar.com  and on LinkedIn.
About SolarPark Energy
SolarPark Energy was created in 2015 as a result of energy policy changes made by the New York State Public Service Commission. Thomas Guzek, an entrepreneur in renewable energy development, along with his investors and partners saw a great opportunity to bring the benefits of this new energy policy to a focused area of Western, Central and Upstate New York. SolarPark Energy strongly believes that Community Solar will help the residents and businesses in this part of the state with lower energy costs and the elimination of harmful CO gasses from power plants powered by fossil-based energy sources. For more information, or to easily obtain solar energy, visit https://www.solarparkenergy.com/about-us
About Catalyst Power Holdings LLC 
Catalyst Power Holdings LLC is an independent, integrated provider of cleaner energy solutions for the commercial and industrial sector through commercial energy, customized Connected Microgrid solutions, and community solar to underserved middle-market commercial and industrial end-use customers, improving the overall efficiency and environmental impact of their supply. Catalyst Power is a portfolio company of BP Energy Partners, LLC. More info: www.catalystpower.com
PR Contacts:
Leah Wilkinson
Wilkinson + Associates for Standard Solar
703-907-0010
leah@wilkinson.associates
Sam Boykin
Boykin Consulting for Catalyst Power
917-447-2657
sam@samboykin.net