ROCKVILLE, MD — A new brownfield solar project in Woburn, Massachusetts, is set to make a substantial impact on the City of Somerville by significantly offsetting its electricity costs and advancing its climate action goals. Standard Solar, a leader in the ownership, operation, funding and development of commercial and community solar assets, today announced the completion of a 4-megawatt (MW) solar array at the Woburn EPA Superfund site.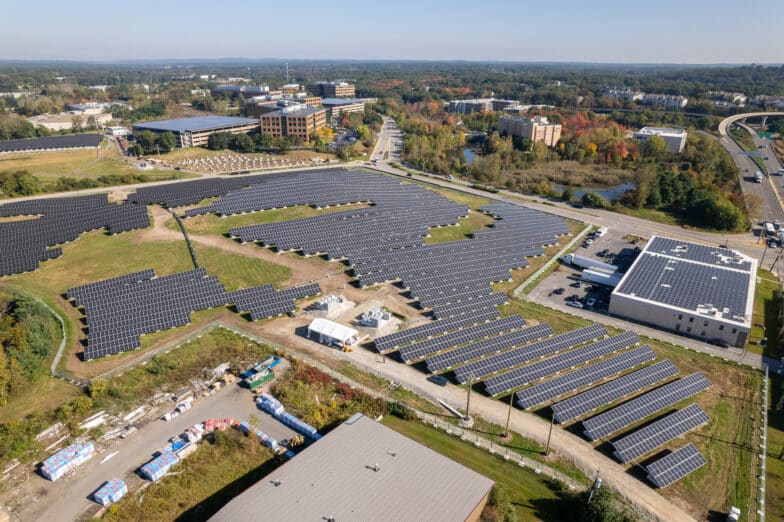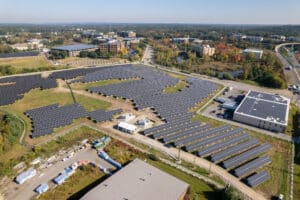 Standard Solar acquired the project from developer partner ECA Solar, a leader in commercial-scale solar development based in Massachusetts. The ground-mount project is divided into two arrays totaling 4 MW. The 3.35 MW Phase I is complete, and Phase II, .866 MW, is expected to be finished by the end of the year. Combined, these arrays are projected to yield approximately 5,200 megawatt-hours of energy on an annual basis. This output is equivalent to offsetting the greenhouse gas emissions produced by 823 gasoline-powered passenger vehicles driven for a year, providing electricity for 720 homes for one year and charging 449,822,970 smartphones.
"Standard Solar is honored to be a part of this transformative journey and is committed to bringing clean and sustainable energy to the heart of Massachusetts," said Harry Benson, Director of Business Development, Standard Solar. "We believe that the Industri-Plex project is a testament to the power of innovation, partnership and dedication to a greener future."
In 2022, the Environmental Protection Agency (EPA) approved a Reuse Work Plan for the 4-megawatt Solar Generating Facility, which is situated on the East-Central and East side of the Woburn Superfund site. This groundbreaking project is the result of a partnership between Standard Solar and ECA Solar.
"Standard Solar greatly appreciates and acknowledges the unwavering commitment of our partner, ECA Solar, in driving forward this impactful project," continued Benson. "Together, we are making a difference."
A ribbon-cutting ceremony, held on October 4 in conjunction with ECA Solar, marked the beginning of a new chapter in the history of the Woburn Superfund site. This event, which included speakers Somerville Mayor Katjana Ballantyne; David Cash, Regional Administrator – EPA; Bonnie Heiple, Commissioner of the Massachusetts Department of Environmental Protection (MassDEP); and special guest Jan Schlichtmann, Environmental and Civil Justice Attorney, signifies the strength of the community and the potential for positive change, even in the face of adversity. The project partners are proud to have reached this milestone, culminating in years of hard work by many individuals and companies.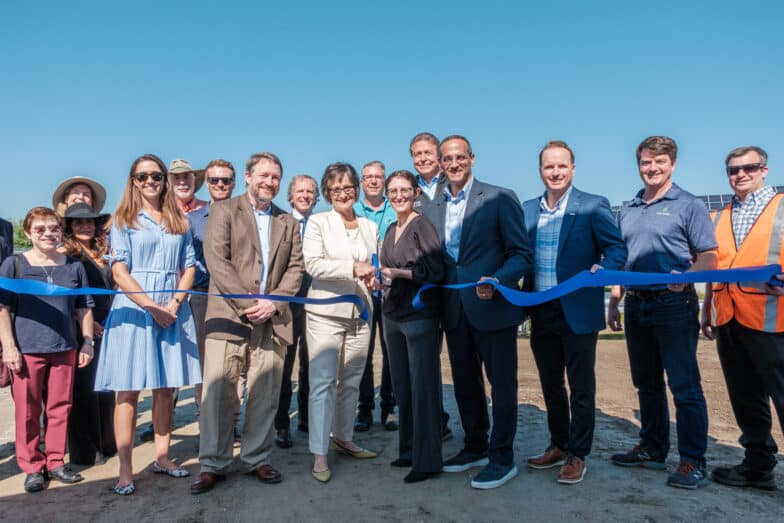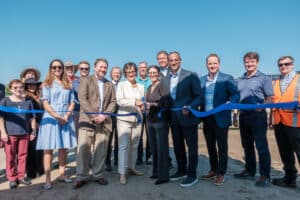 "ECA values its partnership with Standard Solar in completing this, and other, solar projects," said Todd Fryatt, founder and CEO of ECA Solar. "We're proud of the work we have accomplished at Industri-plex together and are excited to see this project completed, bringing forward a bright future for this site and this community."
"This solar farm is the green economy in action, creating green jobs and providing solar credits to cover more than one-third of the electricity used by Somerville's municipal buildings and functions. For our community, this is more than just a cost savings, it's an important step forward in our goal to be carbon net negative by 2050," said Mayor Ballantyne. "I can't thank Standard Solar and ECA Solar enough for the good work done here."
The Industri-Plex, a 245-acre plot of land, occupies a distinctive position in the industrial history of New England. Originating as a modest settlement in the 1600s and evolving into an industrial juggernaut during the 1800s, this location confronted numerous challenges. By the 1980s, it had garnered the dubious distinction of being ranked as the fifth-most polluted site in the nation. However, it is re-emerging as a beacon of hope for positive revitalization.
This is Standard Solar's second project completed with ECA Solar and its sixth project in Massachusetts.
Editor's note: Event photos here.
About Standard Solar
Standard Solar, a Brookfield Renewable company, is powering the nation's energy transformation – channeling its project development capabilities, financial strength and technical expertise to deliver the benefits of solar and solar + storage to businesses and institutions, farms, governments, communities, and utilities. Building on nearly 20 years of sustainable growth and in-house and tax equity investment capital, Standard Solar is a national leader in developing, funding and long-term ownership and operation of commercial and community solar assets. Recognized as an established financial partner with immediate, deep resources, the company owns and operates more than 300 megawatts of solar across the United States. Standard Solar is based in Rockville, Md. Learn more at standardsolar.com, LinkedIn and Twitter: @StandardSolar.
For project acquisition and development inquiries, contact Harry Benson, Director of Project Development, 240-802-6012, harry.benson@standardsolar.com and on LinkedIn.
About ECA Solar
ECA Solar develops, engineers, installs, and operates large-scale solar facilities across the United States. ECA Solar takes an institutional approach to the solar energy industry. Our goal is to deploy the highest quality of solar power and energy storage projects to diversify the electric grid, while remaining risk averse and prioritizing safety. We value diversity and creativity to achieve the common goal of making solar energy more accessible to everyone. We're proud to have developed hundreds of acres of ground-mounted solar and over six million square feet of rooftop solar in seven states. For more information, please visit www.ecasolar.com.