ROCKVILLE, Md.—September 10, 2021 — On September 9, Standard Solar Inc., a national leader in commercial and community solar asset development, and the Solar Energy Industries Association, the preeminent trade association for the solar industry, hosted U.S. Senators Chris Van Hollen and Ben Cardin and other government and industry leaders for a site visit and guided tour of the Shepherds Mill Community Solar Project in Union Bridge, MD.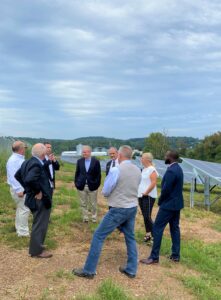 Standard Solar funded the community solar farm and is the project's long-term owner and operator. OGOS and Earth and Air Technologies developed it and subscriptions are managed by Neighborhood Sun Benefit Company.
"Community solar projects like Shepherds Mill, with their ability to impact significant segments of the population through job creation and the lowering of their carbon footprint, have become more and more important over the years," said Rick Berube, Chief Operating Officer of Standard Solar. "In this time when our federal government is working to pass groundbreaking legislation that will strengthen solar policies and grow a clean energy economy, renewable energy assets that bring solar to people who might not otherwise have access to it are vital."
"We need even more smart and focused investments in our infrastructure that respond to real needs and reap broad benefits for our workers, businesses, and the public at large. Strategic development of solar electricity production can help meet electricity demands and combat climate change – an imperative we must immediately confront," said U.S. Senator Ben Cardin, Chair of the Environment and Public Works Subcommittee on Transportation and Infrastructure. "I appreciated the opportunity to see cutting-edge technology at work at the Standard Solar facility in Union Bridge and applaud the company's role in helping to power Maryland's electricity grid and innovation economy."
"Investing in renewable energy sources like solar will not only help us tackle the threats of climate change but will also create clean energy jobs and boost Maryland's economy. The Shepherds Mill Community Solar Project will also help participants save up to 30% on their electric bills. I will continue working at the federal level to support solar development projects to incentivize renewable energy use, reduce costs to consumers, and bring more opportunity to Marylanders," said Senator Van Hollen.
"As we advocate for transformative solar and climate policy in Washington, it's important that we are intentional and build a clean energy economy that uplifts every community with quality jobs, local investment, and cleaner, more reliable electricity," said Abigail Ross Hopper, president and CEO of the Solar Energy Industries Association (SEIA). "The economic, health and resiliency benefits of solar energy have to be made accessible to all Americans, and we're urging Congress to make sure that happens in the infrastructure legislation."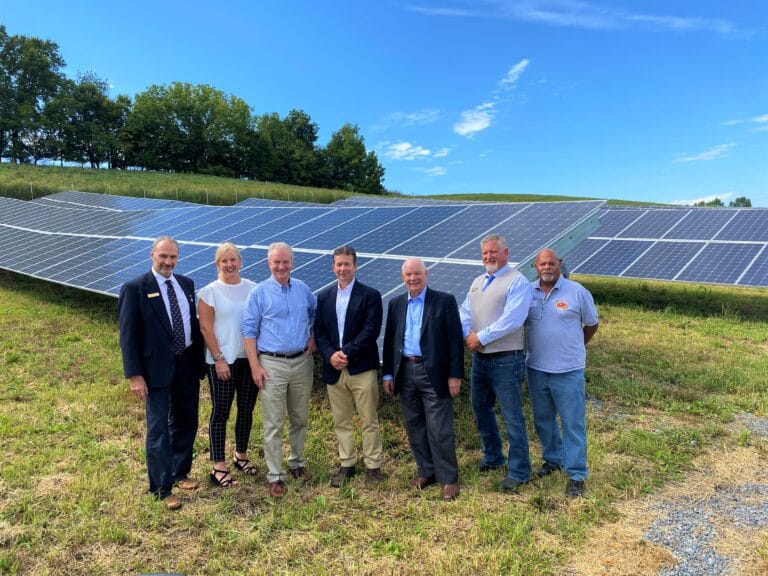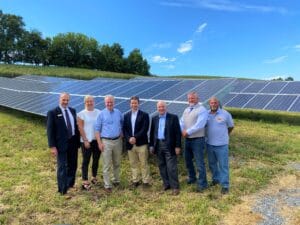 The Shepherds Mill Community Solar Project is a 2.8 MW ground-mount solar array with 7,182 solar modules located on approximately 11 acres of land. It produces 4,000,000 kilowatt hours of electricity each year and brings the power and savings of solar to hundreds of area subscribers.
A number of renewable energy policy initiatives are being considered as part of the historic Build Back Better infrastructure package such as expanded funding for permitting, a long-term extension of the solar Investment Tax Credit with an option for direct pay, increased job training and investments in grid modernization.
As a large-sized generation system helping to fuel the growth of the nation's renewable energy infrastructure, the Shepherds Mill Community Solar Project plays a critical role in both Maryland's burgeoning community solar market and America's effort to reach 100% clean energy by 2035.
The project received grant funding from the Maryland Energy Administration's (MEA) FY20 Community Solar LMI PPA Incentive Grant Program (LMI-PPA Program) designed to help extend the benefits of community solar projects to members of the Low and Moderate Income (LMI) community. LMI subscribers are guaranteed additional discounts on the community solar portion of their electric bill. All other residential customers are guaranteed to save 10% annually by switching to community solar power.
This project in Maryland – and more in the state that are currently operating, approved for design and in-construction – join Standard Solar's 150+ MW of community solar projects funded and operating with partners around the United States.
About Standard Solar
Standard Solar is powering the nation's energy transformation – channeling its project development capabilities, financial strength and technical expertise to deliver the benefits of solar, as well as solar + storage, to businesses, institutions, farms, governments, communities and utilities. Building on 17 years of sustainable growth and in-house and tax equity investment capital, Standard Solar is a national leader in the development, funding and long-term ownership and operation of commercial and community solar assets. Recognized as an established financial partner with immediate, deep resources, the company owns and operates more than 200 megawatts of solar across the United States. Standard Solar is based in Rockville, Md. Learn more at standardsolar.com, LinkedIn and Twitter: @StandardSolar.
About SEIA
The Solar Energy Industries Association® (SEIA) is leading the transformation to a clean energy economy, creating the framework for solar to achieve 20% of U.S. electricity generation by 2030. SEIA works with its 1,000 member companies and other strategic partners to fight for policies that create jobs in every community and shape fair market rules that promote competition and the growth of reliable, low-cost solar power. Founded in 1974, SEIA is the national trade association for the solar and solar + storage industries, building a comprehensive vision for the Solar+ Decade through research, education and advocacy. Visit SEIA online at www.seia.org and follow @SEIA on Twitter, LinkedIn and Instagram.