Standard Solar and Standard Energy Solutions have taken on the responsibility of litter pick-up along a stretch of Midcounty Highway near Woodfield Road – because we think a clean road is a better one to drive down, and we think we look great in reflective orange vests. In all seriousness, we are happy to pitch in to keep our corner of the world a safer and cleaner place.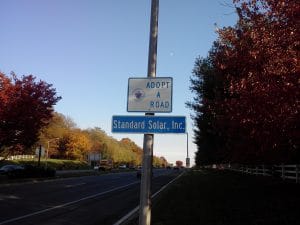 We take our role in preserving our environment seriously – and adopting a road here in Montgomery County is one small way of doing that. Each piece of plastic we pick up is one fewer entering our waterways, one fewer that can negatively impact the animals and plants that make up our ecosystem.
Thanks to everyone here in our Rockville, MD headquarters who are participating in this program!