In October of 2011, Standard Solar broke ground on a parking deck solar canopy installation, part of an expansion project to complete the largest photovoltaic installation in Virginia (read the original blog post here).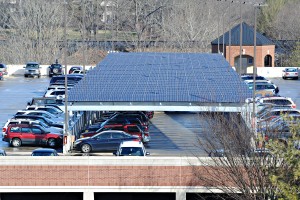 The 118 kW solar canopy installation at Washington and Lee University's Lexington, VA campus was linked with the other solar arrays at the University to create the largest solar electric system in the state. The system was switched on earlier this month and is now generating clean, renewable energy for the University. Check out their daily solar data on their web-based dashboard, which features graphic display of the generation for both installations, includes both the ambient and cell temperatures, and provides data on the environmental benefits.
Read more about the system on the Washington and Lee University blog.