American University and Catholic University announced recently plans to use Standard Solar to dramatically expand their photovoltaic (PV) systems in the coming months.  Both projects are upgrades of existing Standard Solar PV installations.
Catholic University of America (CUA) President John Garvey recently recognized six students for designing a solar powered picnic table equipped with outlets capable of charging laptops, cell phones, e-books and other electronic devices.  The solar charging station, which has been installed outside the Edward J. Pryzbyla University Center, was the winning design in a University sponsored contest.  Students on the design team received scholarships provided by Washington Gas Energy Services, Inc.
The winning design team is made up of a graduate student in mechanical engineering, Joseph Cochrane of Coopersburg, Pennsylvania and five students in the CUA Master of Architecture and Master of Science in Sustainable Design programs. Lindsey Dickes of Baltimore, Maryland; Michael Doster of Wayne, New Jersey.; Cory Estep of Bradenton, Florida; John Lang of Ellicott City, Maryland; and Monica Perez of McLean, Virginia all contributed to this award-winning solar project.
CUA President Garvey also announced today plans to add 440 solar panels to the more than 1,000 panels already installed on four campus buildings. The expanded system will total 414 kilowatts and generate more than 500,000 kilowatt hours of power each year. Standard Solar Inc. installed the original system and will install the new solar panels as well.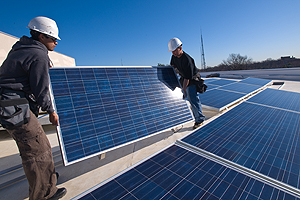 American University (AU) recently announced plans to install more than 2,150 solar photovoltaic panels on six of its buildings by July, making theirs one of the largest solar electricity systems in Washington, D.C. The 505 kilowatt system will be installed by Standard Solar Inc. of Rockville, Md. and owned and operated by Washington Gas Energy Services Inc.
Combined, AU will have more than 532 kilowatts of solar PV producing about 637 megawatt hours of electricity each year. Electricity from the solar photovoltaic panels will avoid more than 557 tons of carbon per year, the equivalent of eliminating greenhouse gas emissions from 57,500 gallons of gasoline annually, or nearly 1 million gallons over twenty years.
American University will officially kick-off these solar projects as the grand finale of its week-long Green Campus-Green Community Earth Week Celebration April 18 through Earth Day on April 22.