There's nothing like a natural disaster to signal that our electricity grid needs a major overhaul. Take Hurricane Sandy: after it ravaged the Eastern Coastline, New York regulators developed the innovative Reforming the Energy Vision (REV) Initiative, which seeks to change the way the state's electricity is procured, distributed, and regulated. One key component of REV—and something that will improve grid resiliency across the country—are microgrids.
If you follow Standard Solar, you know that we're passionate about microgrids—particularly the solar kind. We developed one of the first commercial-scale solar microgrids at Konterra Realty (in Maryland). And our recently completed solar microgrid at the Pepco WaterShed Sustainability Center has garnered industry-wide recognition from both the Solar Electric Power Association and Solar Builder Magazine (vote for us in the roof-mount category!).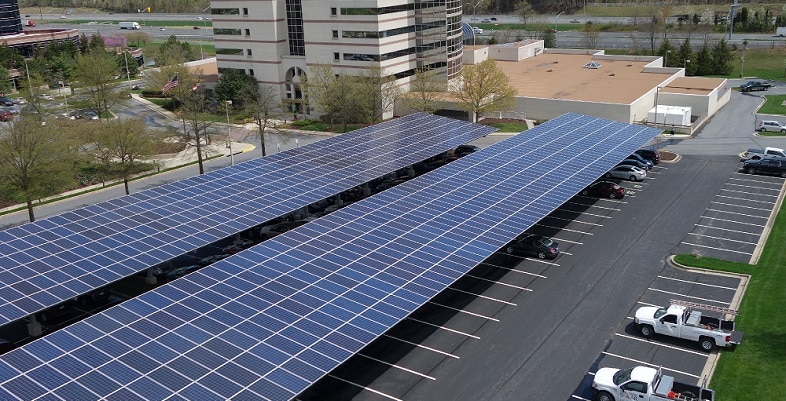 The word "microgrid" gets thrown around a lot. If you were at SPI last month, you know what I mean! But—what exactly is a microgrid?  We like to think of it as a grid that has all the pieces and parts of a traditional electricity grid, just in a smaller—that is, micro—form.  Or to put it in more official terms as defined by the Department of Energy, a microgrid is a group of interconnected loads and distributed energy resources within clearly defined electrical boundaries that acts as a single controllable entity with respect to the grid.
Microgrids have all sorts of benefits, from reducing strains on the grid, to providing a steady source of reliable power—even when that next Superstorm hits.
While today's microgrids tend to derive from fossil fuel resources, solar microgrids are continuing to gain in popularity. Nearly half of future planned microgrid capacity will include solar, making it the primary generation source for the microgrids of tomorrow, according to a September 2015 release from GTM Research.
Since the microgrid sector is relatively new, it still lacks clear and uniform national policies. There's no doubt, though, that microgrids are one of those Next Big Things in energy—particularly when it comes to preparing for weather-related emergencies (did I mention that we are smack in the middle of hurricane season). Microgrid capacity is expected to double between 2015 and 2020, with market growth more than tripling during that same period, reaching over $829 million annually.
Tune into our next blog post to read about the top five states that are pushing microgrids into the mainstream.