On the evening on June 2, 2014 friends, family, and supporters of solar gathered at the Poolesville Waste Water Treatment Facility in Poolesville Maryland to unveil the completed solar array.  This 1.1 MW solar system is the only system installed by a municipality in Montgomery County and makes Poolesville one of the first three municipalities in Maryland to go solar with its own fully-operational source of renewable energy.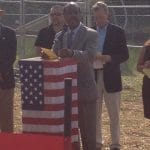 Standard Solar CEO Tony Clifford said it best, that this project is an "economic, environmental, and educational opportunity for the Town of Poolesville.  It's an economic opportunity because the cost of solar electricity being generated by this system is less than the town currently pays for conventional utility power.  From an environmental standpoint the solar system allows the town to make a real contribution to the fight against global warming; and then looking at it from an educational standpoint Poolesville High School will be able to use it as a tool in their environmental science magnet program."  He stated that it's a "win-win-win!"  And this event was surely a win as well!  The ribbon cutting was well attended, we had several great speakers including Jim Brown, the President of the Town of Poolesville, as well as Charles Miller the General Manager of UGI, Montgomery County Council member Ike Leggett as well as several other county elected officials.  According to Poolesville's town officials this "new energy source is expected to save the town approximately $30,000 in its first year of operation."
As Poolesville is one of the leading small towns in the state of Maryland and the Mid-Atlantic, it comes as no surprise that town officials and residents are taking on a leadership role in solar.  Tony Clifford also spoke about the benefits for the Poolesville solar system and how they related to the new Environmental Protection Agency (EPA) regulations on coal, which President Obama spoke about earlier in the week.   In fact, the 3,740 paneled system will offset about 2.4 million lbs. of carbon dioxide annually, this is the equivalent to the amount of CO2 produced when you burn 1.2 million lbs. of coal.  So this system is really making a substantial contribution when you think about it.