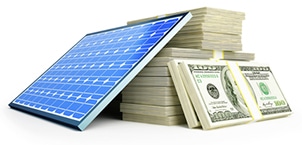 For those of us in the solar industry, one of the most pressing (and often most complicated) parts of putting together a project is securing proper financing—especially in our wheelhouse of large commercial, small utility and community solar. But it's getting easier every day. Here are three things you need to know about securing financing for your large commercial/small utility-scale projects:
Solar isn't just for homeowners anymore. In past decades, the solar industry catered mostly to upper-middle and upper class homeowners with the discretionary income of a small country (or California—take your pick). But now solar is everywhere, and one of the hottest markets in the country is the commercial distributed-generation (DG) segment.Whether it's a municipality trying to lower electricity costs for its residents, a school trying to provide its students with STEM educational opportunities (and saving money in the process) or a farmer trying to hedge against volatile crop prices, more people than ever are powering their operations with solar power. Given that 90% of Americans support the energy alternative, it makes sense (and cents) to install solar arrays on commercial buildings whenever possible.
Bankers no longer look at you like you're speaking a foreign language when you bring up solar. In the not-too-distant past, bringing up a solar project to a banker was like talking an exotic language (and speaking louder and more slowly didn't help there, either). But as the solar industry has grown explosively in the past five years, bankers are no longer scared of lending money to businesses and organizations that want to offset their energy costs.With the long-term commitments and guaranteed revenue, the banks are becoming more comfortable when commercial customers come in to enhance their buildings with solar arrays. As the proliferation of real-estate investment trusts (REITs), YieldCos and commercial PACE programs continues, we believe the financing options for commercial solar installations will expand exponentially in the next five years.
In lieu of depending on banks to loan clients the money, more installers are cutting out intermediaries and financing projects themselves. If you don't believe in yourself, why should clients? If you're an installer with a long history, bankable assets and stable partners, it makes sense for installers to fund their clients' projects.It builds customer loyalty and adds an additional revenue stream. The old saying that if you want the job done right, you should do it yourself, applies. If you can give your customers a seamless way to finance their commercial projects, it makes everything else go more smoothly.
Financing a solar system for your business has gotten infinitely easier, and it's our opinion it will continue to grow for the foreseeable future. If you're a commercial customer that wants to install solar, seek — and you shall find a financing option that works best for you.