Homeowners usually experience a peak in electricity bills during the winter months because of the change in temperature. We know it is important to keep your home comfortable during these cold temperature seasons and there are ways to do so while  minimizing the electricity costs. Here are a few tips from our energy experts at Standard Energy Solutions (SES) on maximizing your home's energy efficiency while staying comfortable during the winter months. 
1.     Check your Home's Building Envelope
During the summer season we discussed your home's building envelope which includes the walls, doors, windows and floor of your home. Your building envelope creates a barrier between the air in your home and the air outside. According to the American Council for an Energy Efficient Economy (ACEEE), hidden air leaks cause some of the largest heat losses, especially in older homes. A tight building envelope ensures that warm air circulates throughout and lessens the need to increase the thermostat's temperature. In fact, sealing air leakage can reduce costs by up to $90 a year. How do you check your home's envelope? With a home energy audit, your home's building envelope will be evaluated by SES experts who provide a thorough and accurate measurement of the air leakage in your home. Our experts use several techniques during their inspection including a blower door test, infrared inspection and a combustion appliance zone test. We will also provide a customized audit report that will include a detailed summary of the recommended retrofits and energy solutions for your home.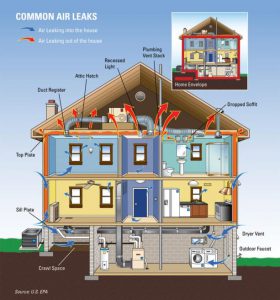 2.       Set Your Programmable Thermostat
Once your home's building envelope is tightly sealed, the next step is to set your desired temperatures. There are two simple rules to follow to be as energy efficient as possible. Firstly, when you are home, set your thermostat at a low yet comfortable temperature. And secondly, when away, turn your thermostat down 10-15 degrees. According to the Department of Energy's Fall and Winter Energy-Saving Tips, this can reduce costs by about 10 percent annually on your heating bill. Keeping up with constantly changing the thermostat when you're in and out the house can be a task. SES offers a Smart Home energy solution that includes a programmable thermostat. With the SES Smart Home, you can set the desired temperature scenes based on your daily routine while also having the ability to change the setting remotely from your computer or smartphone! Our Smart Home package also allows you to remotely manage electrical appliances and lighting – which will result in more efficient energy usage and lower electricity costs.
3.       Make the switch to LEDS
The third tip to maintaining energy efficiency during the winter season is converting your existing compact fluorescent (CFL) bulbs to light-emitting diodes bulbs.  LEDs are energy efficient and environmentally friendly. They convert 60% of electricity to light and are fully dimmable – allowing you to create customizable scenes when entertaining company or managing your lighting remotely via your Smart Home. SES offers several different LED options, whether you are interested in pairing our LEDs with your Whole Home package or adding as a DIY project, our SES experts can provide detailed information on the benefits and customizable uses of LED bulbs.
During the holiday season, try LED holiday light strings to reduce the cost of decorating your home. Did you know that it only costs $0.27 to light a 6-foot tree for 12 hours a day for 40 days with LEDS compared to $10 for incandescent lights? In fact, LEDS are much cooler than incandescent lights which make them a lot safer reducing the risk of combustion or burnt fingers. They also are much more resistant to breakage.
With these three basic tips, your home can be warm and energy efficient this winter season. For information on how SES can help you reduce your energy costs, enhance your home's comfort and control your energy needs, contact our SES experts at 301-944-5222 or info@standardenergysolutions.com .