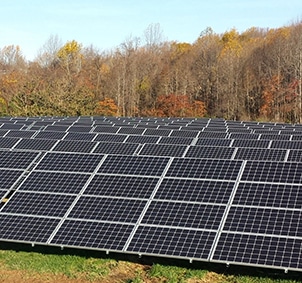 We've been seeing quite a few great articles recently that discuss the idea of community solar.
The whole idea—one central solar installation can power an entire community—helps refute the commonly-held (and erroneously circulated by solar's critics) belief that solar is only a power source for the rich and famous.
It democratizes (small "d") energy production and provides more local control over energy prices at the level it should be—in cities and towns across the country, giving them the freedom and self-sufficiency to control their own future.
The concept is simply this: People who want to participate in solar's revolutionary energy system can purchase a specific number of panels (or the output from them) within the community array. The business, school, church—anyone, really—can decide whether they want merely to offset the electricity they buy from the utility or purchase enough energy to power the entire operation.
So whether you have a lot of money to spend or are on a tight budget, have a south-facing rooftop or one shaded by 100-year-old Blackjack Oaks, solar suddenly becomes accessible to everyone.
It doesn't matter whether you own your property or rent it: You now have access to a clean, renewable energy source that puts more money into your pocket each month. Community solar can save you hundreds (if not thousands) of dollars per year that you can re-invest in your organization instead of paying it to your local utility.
And the beauty of it is, you don't have to be a rocket scientist to do it. A third-party installation firm can walk officials, business owners and school administrations through the process. It understands the complexities of doing installations of this magnitude and can shepherd the project from conception through to completed construction.
If you hire the right firm, it can also take care of the project for you afterward to ensure it produces the promised power so communities don't have to hire their own experts to do it for them.
Colorado pioneered the practice, but in its own way, some "communities" in Maryland are doing it, too.
In Cecil County, for example, the school district worked on its own mini-community solar project, in partnership with us. One 2.5 MW system later, built on the grounds of Bay View Elementary School, provides 92 percent of the six-school-district's power. The savings? $100,000 per year.
That's not chump change, especially in an era where schools are fighting for every dollar they can get.
Community solar makes sense for everyone—it just takes a forward-thinking government, a savvy installation partner and the support of citizens to make it happen.