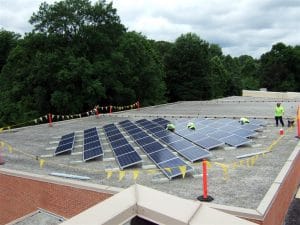 One year later, the 216-panel solar installation continues to contribute 85,000 kWh of clean electricity into the grid- enough to power nine homes- while also reducing by 60 tons the greenhouse gas (GHG) emissions. Over its anticipated quarter-century lifetime, the project will provide the equivalent amount of electricity needed to power 225 homes and reduce GHG emissions by 1,500 tons.
The solar array is currently generating clean energy and also providing the Town and PGCPS with a shared revenue stream of up to $18,000 annually from the sale of electricity and renewable energy tax credits.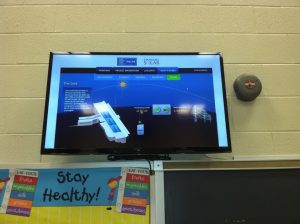 University Park Elementary School is not only benefiting from the steps they have made toward a brighter future in sustainability, it has use for educational purposes in the classroom too. In addition to the energy reduction costs, the solar project is being used for educational activities linked to the county's STEM ( Science, Technology, Engineering and Math) curriculum. It is teaching students how to visually follow the energy production the arrays are creating with a digital web portal that is installed to be viewed, all while enabling students throughout the county to view the system performing in real time.
The project is funded by a U.S. Department of Energy grant to the Town for the Small Town Energy Program (STEP) and is delivering clean energy and revenues at no cost to the Town or to PGCPS.