After a five day rain delay (courtesy of the remnants of Tropical Storm Lee), the installation of Twin Ridge Apartment's 6.66kW solar system finally was completed today. Twin Ridge is the first apartment complex in Baltimore County to go solar setting an example for others in the Baltimore community to go green by using solar as an affordable alternative to conventional power.
The system is being installed on the roof of the community's club house, which houses the leasing office, gym and swimming pool.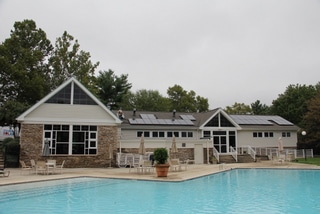 The 36 solar panels are in full view of the complex's outdoor pool deck so residents will be able to see the evidence of their green community while enjoying the sun!