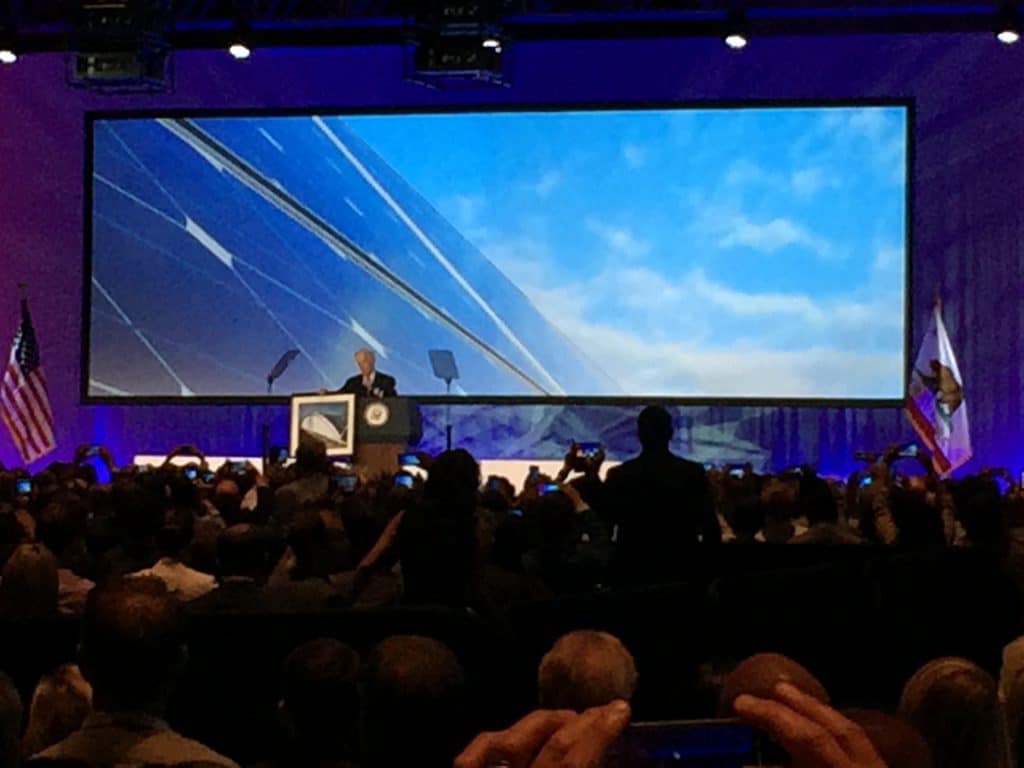 When I finished my Solar Power International (SPI) panel discussing what future opportunities the panelists saw in solar as it related to utilities, I was pretty pleased with myself. I had filled the convention-center ballroom with thousands of people, and they hung on my every word (Four ovations. Four. That was more than any other member of the panel).
Then someone gently broke it to me that they weren't really there to see me display my "genius." They were waiting with bated breath for some guy named Biden.
OK, it was Vice President Joe Biden, which explained the bomb-sniffing dogs outside the convention center.
All kidding aside, it was an honor and privilege to have been on the same stage that Biden eventually spoke from, and he had an inspirational message for the solar industry. He also had a real surprise for me. I'd brought a framed photograph of the solar installation we did at the University of Delaware (the vice president's alma mater) and had planned to give him the photograph backstage after his speech. Instead, he had it brought on stage where he held it up for the rest of the audience to see.
"My alma mater has gone solar," Biden said. "They have always been ahead of the curve. It's nice to see they're doing it on energy — with your help."
"The market is working, and it's choosing solar," Biden told the assembled crowd. "We want to give all Americans an energy choice."
Then he had the guts to discuss one of my favorite soapbox issues: the $5 billion in tax breaks the United States still gives to the oil-and-gas industries, despite the fact they no longer need them. "If we gave half that money to the solar industry, it would be a game-changer," Biden said.
I don't know if I've mentioned it, but this year is the 102nd anniversary of tax breaks for the fossil fuel industries. More than a century. The solar industry has only had its federal incentives continuously for seven years. And the knuckleheads in Congress want to take them away from us. In what world is that sane energy policy? But I digress — back to Biden, who was on fire.
A devout Catholic, Biden namechecked Pope Francis, highlighting the Bishop of Rome's insistence that climate change is real and that people should do everything they can to stop it (something for which solar is tailor-made). Therefore, he added, there is a moral argument for solar. That is a powerful new arrow in a quiver to use in our fight to save the investment tax credit (ITC).
But what excited me most about Biden's speech was his announcement that the Obama administration would invest $102 million in the solar industry, aiming to cut red tape so innovative technologies can reach the market faster. He said the goal was to lower solar prices 75% by 2020. If that happens, nothing could hold solar back from being the dominant power source of the future.
It was a great speech, and I'd like to thank Biden personally for his inspirational and uplifting speech at SPI. I know it renewed my spirit, and my commitment to fight like crazy to make sure policies stay in place to make universal solar a reality.
I'll let him have the last word on the future of solar and its role in the lives of future generations.
"Our grandchildren will look back at us and wonder what we were arguing about," Biden said. "Solar won't be unusual any more. It will be just as much a part of their lives as cell phones and the Internet — and that will be a great day for America."