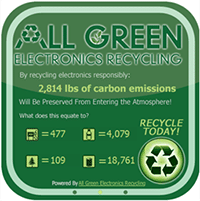 Check out how much carbon emissions electronics!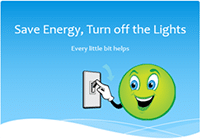 One of our posters hung in our conference rooms and lunch room.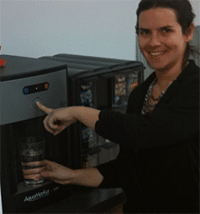 Did you know that by opting for reusable bottles instead of purchasing bottled water, you can save up to $81,678.24 a year?
We are proud to announce that Standard Solar is now a Montgomery County Certified Green Business! As a service provider of green energy solutions, it was important for us to implement sustainability practices throughout all areas of our business so that we were operating in a manner that demonstrates our commitment to environmental stewardship.
Our team is so excited about this accomplishment and we wanted to pass along a few of the practices that we have implemented within our office that you can also consider
for your business:
Waste Reduction and Recycling
Much of what is thrown away in an office can be recycled including:
Paper
Toner
Co-mingled plastic and metals
Electronics
Energy Management
Turn off lights and projectors in rooms not in use and use sleep modes on
computers
Environmentally Responsible Purchasing
Support other green vendors Take steps to support your community
–we adopted a section of Gaither Road! This helps keep our community
clean and helps the Chesapeake Bay watershed
Offer Commuter Options and transit incentives to employees
Use water coolers rather than bottles of water, give employees
reusable bottles to encourage use in the work
These are just a few areas in which we have improved our sustainability in the
office. Our Sustainability committee meets monthly to discuss and review our
ongoing efforts and brainstorm other projects and areas of improvement. We
would like to encourage other businesses to follow in our footsteps and work to
become green certified themselves.
These small steps we took serve as a good example of how easy it is to get started!