I thought I knew how well the solar industry was doing. After all, as part of the executive team at Standard Solar, I get to travel across the country and talk to installers and solar customers of all shapes and sizes. As a result of my conversations, I knew solar was having a pretty amazing 2016.
But a 95% increase over 2015? Never in my wildest dreams (nor, dare I say, the dreams of anyone else in the industry) could I have predicted we would nearly double the amount of solar we installed in 2015. Through the hard work and dedication of solar professionals, the industry installed 14.6 GW, according to the latest numbers compiled by GTM Research and Solar Energy Industries Association (SEIA). That's a big number, but what does that mean to your average electricity consumer?
Assuming 1 GW of electricity can power 300,000 homes (yes, it could theoretically, in an ideal world with no variations in consumption and no distribution loss, the number is closer to 725,000 homes – but we don't live in such a world), we installed enough solar last year to power 4.4 million homes.
And let's remember: We installed 7.5 GW in 2015, which had been a record until, Barry Bonds-like, we decided to demolish it one year later.
But what's even more exciting to us is that, for the first time since 2011, non-residential growth—commercial, municipal, community and government—outpaced the residential market in growth. That makes me proud to be a part of that segment in particular, since it's my belief that it hasn't even come close to reaching its potential yet. And I, along with my colleagues at Standard Solar, are champing at the bit to continue pushing it there.
Now, I'm not going to gloss over an important factor that helped fuel last year's solar boom that won't be available in 2017. Before the investment tax credit (ITC) was extended in 2015, developers scrambled to push projects through by the end of 2016, when the ITC was originally scheduled to expire.
In other words, 2016 had an unfair advantage over previous years—panicked developers worried about missing out on tax-credit opportunities. The earliest that could happen again is 2023, so 2017 is naturally not going to be able to reach 2016's lofty levels.
Which, by the way, does definitely not mean the solar industry won't continue to grow and grow well. But it's my belief the growth levels will probably return to more traditional levels—which will mean steady, good growth. The numbers just won't be quite as eye-popping.
I've been involved in the solar industry for a long time, and when I started, I would never have imagined this kind of market penetration. But the fact we accounted for 39 percent of new capacity additions across all fuel types in 2016—No. 1 for the first time in our history—is a tribute to all the people who have worked so hard to bring solar from a niche market to the mainstream.
Not only that, but the recent National Solar Jobs Census from The Solar Foundation reported that the solar industry now employs more people than the oil and coal industries combined, to the tune of 260,000 jobs. In real terms, that means more than one out of every 50 new jobs created in the U.S. during 2016 was created by the solar industry. Can you imagine? I couldn't—but now it's a reality that can't be denied. Solar is here to stay, thanks to your hard work and dedication.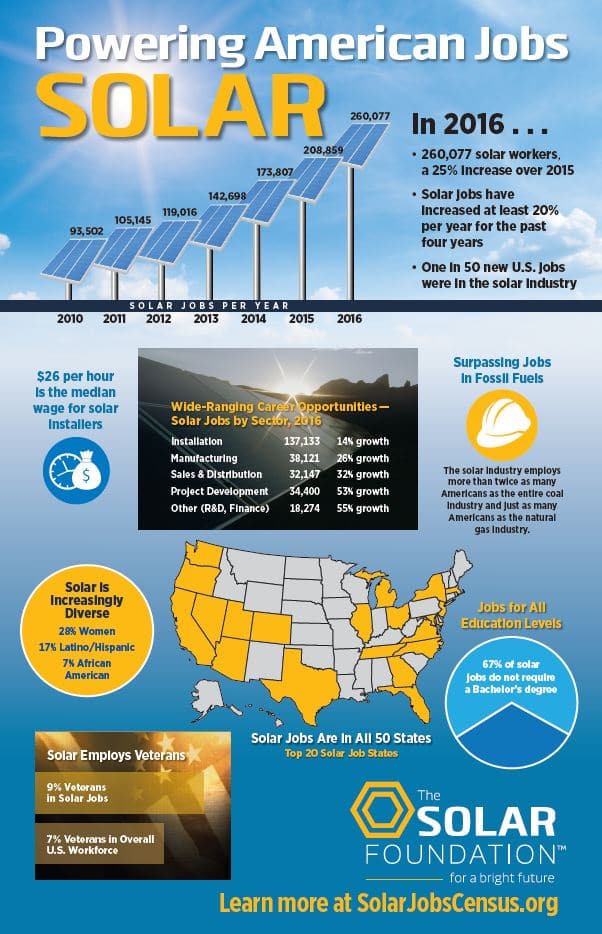 So today, I raise a glass in celebration to all of you. Now back to work—let's make 2017 an excellent year, too.