Pretty much every person who was involved with athletics as a kid remembers the first time they played on a field or a court with a real scoreboard – it's a potent feeling of accomplishment. It is big time. We are really thrilled to have been able to help in a small way to make that happen for the members of the CapCity Little League this spring.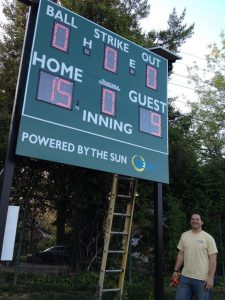 After the team's parents, of whom some are staffers at SEIA, went in together to purchase a solar-powered scoreboard for the Chevy Chase Recreation Center at Livingston Park in Northwest D.C., Standard Solar's Matt Griffiths loaned his time and expertise to get the system up and running.
The young players are reportedly very excited for their new scoreboard – way to go Matt!