Most people go to Las Vegas to relax, have a few drinks by the pool and gamble.
When I go to Las Vegas, I barely see the slot machines and blackjack tables. That's because I'm generally running all over trying to meet all the obligations Standard Solar and I have.
This year, the conference was held at The Mandalay Bay Resort and Convention Center, which at least concentrated all my running around in one place. But as Standard Solar continues its meteoric growth and influence within the industry, it's multiplied our responsibilities to the point where we can barely get a sense of everything we've accomplished until we get home.
So here are just a few of the things I remember from those four days of invigorating, non-stop activity:
The Opening Night Solar Power World Top 500 Dinner
For the sixth straight year, Standard Solar took its place among the Top 500 solar companies in the industry at the request of Solar Power World magazine, which started its Top 500 to bring an Inc-style listing of the best companies to the solar industry.
In a tribute to our amazing team, we've been recognized each year since the list began in 2012, and we plan to be on it for a long time to come. After all, what's better than being recognized for excellence by your peers?
We can't wait until next year's list comes out to see where we place so our team can make our reservations for the dinner again.
Leading the SEIA Distributed Generation (DG) Division
As the elected Chair of the DG division, I had the distinct pleasure and privilege of leading a discussion of the trade case and other challenges facing DG companies like us. The Solar Energy Industries Association (SEIA) has an incredibly talented group of people in its DG Division, and the discussion was both vigorous and productive.
You'll see some of the results of those discussions in the coming months as SEIA works with the committee to implement some of the suggestions that came out of that meeting. I was honored to lead this group that is shaping the future of distributed generation in the United States.
Making The Most Of Media Meetings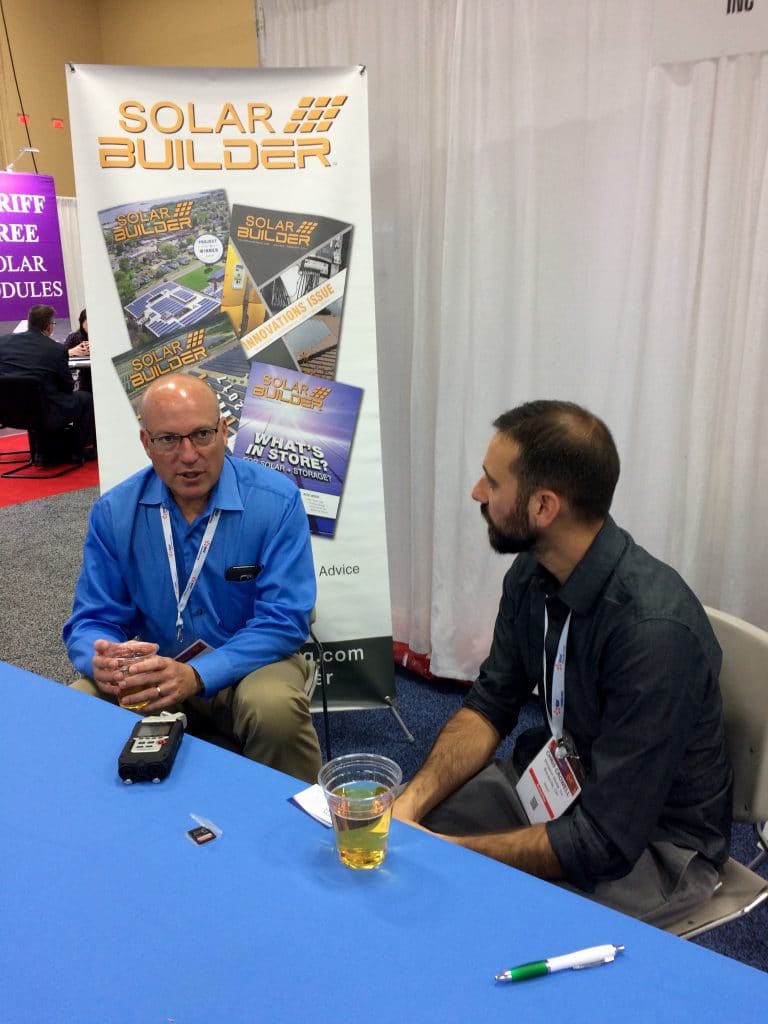 So many of my solar colleagues don't enjoy meeting with members of the press. I, on the other hand, am exactly the opposite: I can't wait to get into an interview room and expound on the value of solar and what I see as the latest trends in the industry.
Let's face it: If we don't take the time to educate the media on why what we do matters, no one else is going to do it. And despite what some people might say, the press (especially the trade press) have no reason to savage our industry.
If we bring them into the circle and show them factually why solar is the future of U.S. electricity generation, we can gain their backing when fights like the Section 201 trade case come up. I always consider it worth my time, and it's worth your time, too.
Building Partnerships To Expand Solar's Reach
While most people know that Standard Solar is one of the best partners to have when you're looking to build a project—since we can handle projects from financing to finish (and beyond)—there are still some people who are unaware of what we can accomplish. And since all the important people in solar come to SPI, it's the perfect place to make deals.
Sure, I nearly lost my voice after the immeasurable number of meetings I attended, but it was absolutely rewarding to meet with so many potential partners (and, based on sheer volume, I can say without fear of contradiction, that the future of this industry is secure). I have no doubt you'll be reading about some of the people I met with as our deals come into more focus. In the meantime, just know it's not just the poker dealers who find themselves at the center of the action.
And Then There's The Show Floor
No matter how many meetings I have, panels I'm moderating or committees to which I'm contributing, I always set aside time to walk the trade show. After all, that's where I can learn about the latest in solar module technology, find out what racking solutions can help us complete our projects just a little quicker than the competition or see the latest software that will help our engineers squeeze every last drop of energy density out of project sites.
When SPI ends, no matter when it is, I am always exhausted—but I'm always exhilarated, too. The show always proves to me what a vibrant, dynamic industry I'm in—and that through hard work and dedication, I can contribute to its long-term success.