The New Mexico Sangre de Cristo Mountains serve as the backdrop to the site of Standard Solar's first solar photovoltaic installation west of the Mississippi, the RCCLA Amalia Solar Array. Tuesday's dedication ceremony saw more than 75 people in attendance – representing local, state and national government, local Rio Costilla Cooperative Livestock Association (RCCLA) members, Kit Carson Electric Cooperative (KCEC) executives and customers as well as those of Standard Solar and our partner, Washington Gas Energy Systems (WGES).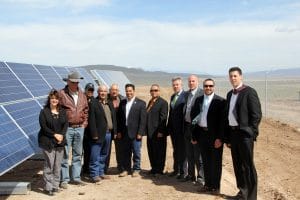 The history of this install is deep and rich. Nearly 30 years ago the members of the RCCLA came together with a mission to boost the economy and prominence of the small town of Amalia; local ranchers have been working to make this kind of project a reality ever since. Although many of the original members have since passed away, the entire group was overjoyed to see it come to fruition. Neville Williams, one of Standard Solar's original founders, became involved several years ago through local rancher Tom Tatum, but plans stalled when financing could not be secured. Years later, that hurdle was overcome with the help of federal tax incentives. As incentives became available, Standard Solar took on the project and partnered with WGES and KCEC to develop the project. KCEC signed a 25 year Power Purchase Agreement (PPA) (not sure what a PPA is…check out our recent blog on the basics of PPAs) with WGES to purchase all of the system's electricity, which at certain times of the year will supply the entire north central region of New Mexico with solar power.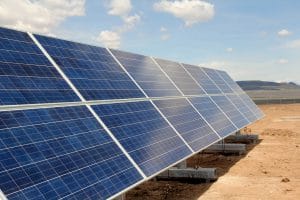 In constructing the 1.5 MW single-tracking solar system, local businesses Paradise Power Company/PPC Solar and Amalia Construction were tapped to provide the labor, many of whom are members of the RCCLA and all are local residents. During the ceremony, several of the speakers, including U.S. Congressman Ben Ray Luján and Jon Barela, New Mexico's Secretary of Economic Development, mentioned the project's benefit to the local economy, providing much-needed employment through quality clean energy jobs.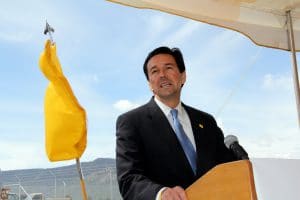 Standard Solar president Scott Wiater addressed the crowd, introducing his mom in the audience and sharing that although he currently lives outside Washington, DC that his family has lived in New Mexico since 1916, when his great grandparents arrived via horse and buggy and settled near Albuquerque. His connection to the state, he said, gives the project special meaning.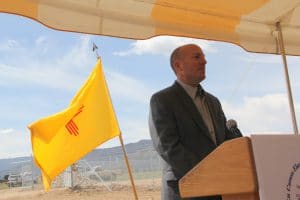 This project is a major victory for the residents of northern New Mexico, the RCCLA and the members of KCEC. They have worked hard to bring this project to fruition with a lot of collaboration and determination, and it should serve as inspiration for other communities interested in the benefits of solar energy. We are honored to be their partner in this achievement.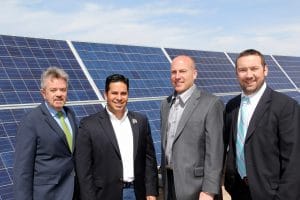 Be sure to check back with us in the coming weeks – we'll be posting a video of the dedication ceremony.