Leaders from government, academia and the energy industry gathered to celebrate the opening of a 630 KW Solar Array at the University of Maryland this morning – but the sun itself was the biggest star in attendance.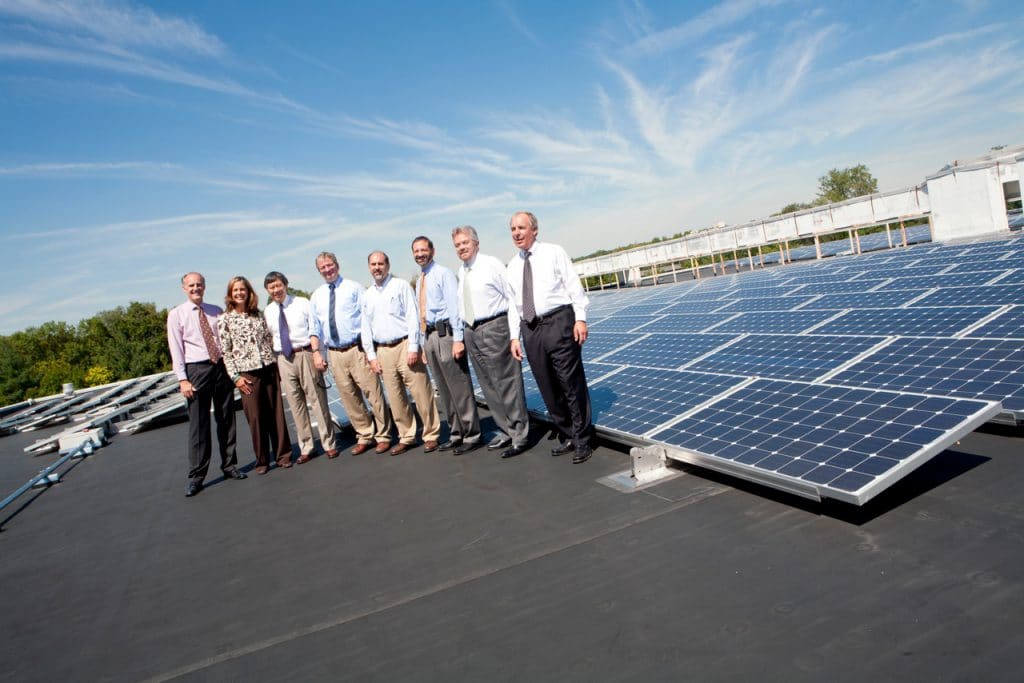 The array of 2,600 solar panels atop the university's Severn Building in College Park, is one of the largest in the region, and will produce 792 megawatt-hours of clean electricity annually — enough to power roughly 64 homes for a year.
"A typical residential system that Standard Solar installs in Maryland is about 5 kW. So this 631 kW system is the equivalent of 126 residential PV systems," said Tony Clifford, CEO, Standard Solar.  "This is an economic environmental, and educational win win win for the University of Maryland.  Economically, this system provides power for less than the university is currently paying for power here at the Severn building.  Environmentally, the CO2 offset from this system is the equivalent of planting 300 acres of trees or recycling nearly 50 tons of waste per year instead of putting it into a landfill.  Educationally, the university now has a system that can inspire students, faculty and visitors about the promise of solar electricity."
"This new Maryland solar array is a terrific example of the green power that can be generated by government, industry and university collaborations," said University of Maryland President Wallace Loh. "The University of Maryland is deeply committed to sustainable practices and reducing its carbon footprint. Creating this new solar facility together with the O'Malley-Brown Administration, Washington Gas Energy Services and Standard Solar advances these university goals, while benefiting the economy and environment of the state and region."
"The University of Maryland, College Park solar project adds 630 kW to our rapidly growing portfolio of solar project partnerships with educational institutions and others," said Harry Warren, President of WGES.  "We commend President Loh and the University's Office of Sustainability for their leadership in renewable energy, MEA, our federal policy makers for the grant funding to support the project, and the Governor's continued support of competitive electricity markets that allow companies like WGES to invest in cleaner, more efficient energy sources.  Schools across Maryland realize that a solar project not only makes environmental and financial sense, but also provides a valuable educational experience to transform students into renewable energy leaders."
The new solar facility is the result of a partnership between University of Maryland, Washington Gas Energy Services and Standard Solar.  Funding for the project came in part from the O'Malley Administration's Project Sunburst, which was designed to leverage private capital and thus enable governments across Maryland to make investments in clean, renewable energy resources with no upfront costs.  The University of Maryland College Park was selected as a Project Sunburst Partner by the Maryland Energy Administration (MEA) in the spring of 2010 and was awarded $630,000 for the project.
"Today's event just shows a glimpse of what the clean energy future looks like," said Malcolm Woolf, Director of MEA. "With distributed generation and solar arrays on both residential and businesses like this, we are going to have a cleaner and more reliable energy future."
Stay tuned for video of today's remarks as well as a guided tour of the system.