Yesterday we were privileged to be a part of the dedication ceremony for the solar array Standard Solar recently completed in Worton, Maryland – one that sits at the forefront of solar in the state, as it is the first public sector project to take advantage of Maryland's aggregate net-metering law that allows more than one facility to make use of the electricity generated by a single system. Kent County is truly leading the way for other communities to make use of large scale installations to power multiple buildings. In this case, the 1.5 MW system will serve Kent County High School, KCHS Radio Antenna, Worton Elementary School, the Kent County Community Center and the County Public Works Facility north of Chestertown.
On hand to dedicate the system and cut the ribbon (yes, we had giant scissors!) were county and state officials and a group of Kent County Parks and Recreation campers who had an opportunity to see the system up close and will further benefit from the system moving forward, as Kent County plans to incorporate the system into its science curriculum.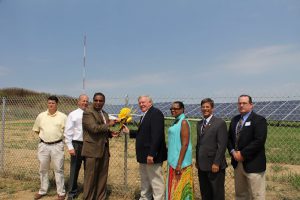 Developed with our partner Washington Gas Energy Systems, who will own and operate the system, this array is a shining example of community leaders' foresight. Along with providing a large percentage of the power needed by the facilities mentioned above, the rate secured for the electricity through a power purchase agreement will save Kent County money on their utility costs. In addition, the array will serve as an educational tool for students as a real-world example of the promise of a clean energy future.