Thanks to natural photosynthesis, green grass is a staple of golf courses worldwide, but one Maryland recreational property company is using photovoltaics to make their greens even greener. The Brick Companies today announced that Standard Solar will build an 800-panel, 191 kW ground mounted solar electric system at the Queenstown Harbor golf course on Maryland's Eastern Shore (location shown below).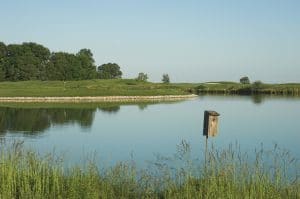 Installation of the system – which will be used to power the Queenstown Harbor golf course clubhouse and cart barn – is scheduled to begin later this year and be completed in early 2012.  Once operational, the system will provide approximately 70 percent of the facility's electricity. The 231-megawatt hours of electricity the system is expected to generate annually will offset the equivalent of 159 metric tons of carbon dioxide a year.
"Environmental responsibility is part of our core mission at The Brick Companies and the use of alternative energy sources is important to us," said Lex Birney, CEO of The Brick Companies. "We can now proudly point to the solar panels at Queenstown Harbor as another demonstration of our commitment to decreasing energy consumption and supporting our 'green building' philosophy."
"Golf courses provide an ideal venue for solar energy as a significant portion of their electric expenses result during daylight hour usage, enabling them to go green on the green," said Standard Solar President Scott Wiater. "We applaud the Brick Companies for using solar energy to power its golf course and taking this step toward energy independence."
Check back here for updates and progress reports as this green golf project progresses!