Four more Standard Solar staff members passed the NABCEP Solar PV Installer examination and have been certified by the organization – congratulations to Gary Brown, Vidyadhar Rangojoo, Jobin Michael and Richard Gilker for their hard work and achievement!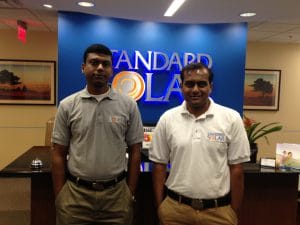 NABCEP is the national certification organization for professional installers in the field of renewable energy. It provides educational resources and standards of practice to its members and promotes consumer confidence. The NABCEP PV Installer Certification exam is a rigorous, 4-hour test which assesses knowledge of PV electrical system components, design, project management and troubleshooting. Although the certification is not required to work in the PV industry, it is certainly a hallmark of a high level of proficiency.
Standard Solar encourages and supports our staff members who strive for certification, and we applaud the efforts of these most recent additions to the NABCEP community.