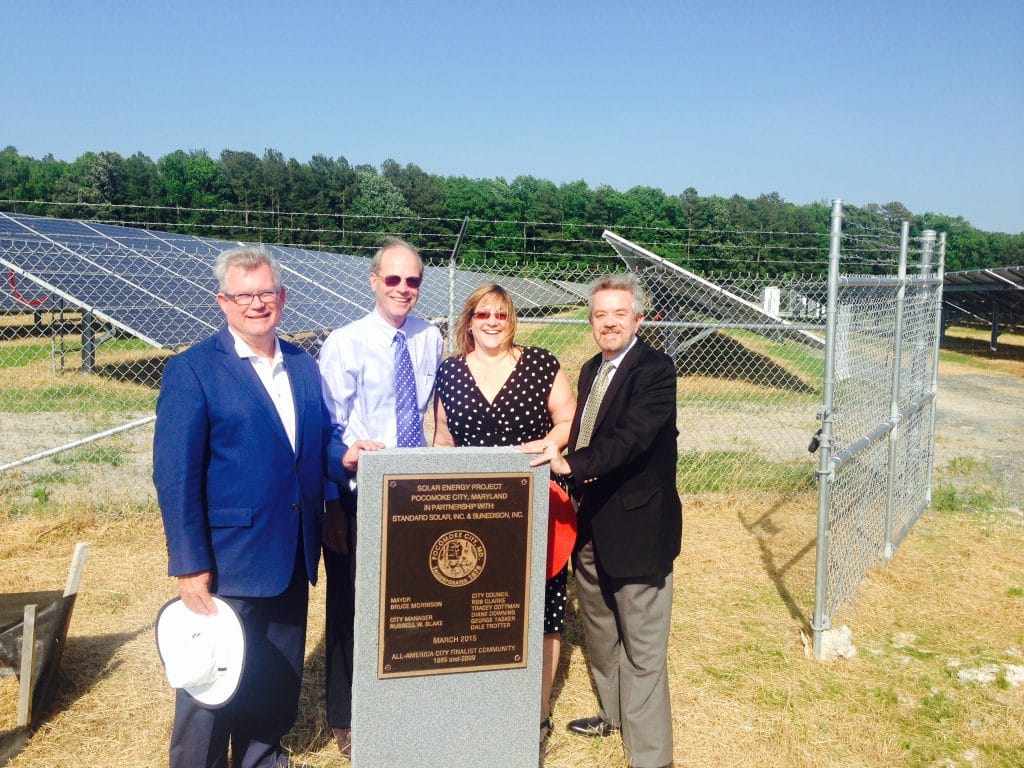 There is nothing quite like a ribbon-cutting to make the heart sing.
When it's located in the city dubbed "The Friendliest Town On The Eastern Shore"—and you've participated in making it even more (environmentally) friendly, there's just no feeling quite like it.
This week, we had the honor and privilege of celebrating the official opening of the largest municipally-sited solar system in Maryland in Pocomoke City. Standard Solar, in partnership with the Pocomoke City Council, our financial partners SunEdison and all the other Pocomoke City public officials, cut the ribbon on the 2.1 MW system housed on 10 acres of land adjacent to the city's wastewater treatment plant.
And, goodness, what a phenomenal day it was to highlight the importance of solar energy. 77 degrees. Not a cloud in the sky. It's as if Mother Nature smiled on the project and approved of its purpose.
The brainchild of Mayor Bruce Morrison, who I had the pleasure of meeting in 2013 at the Maryland Municipal League Conference, the project will produce enough to offset more than 4.4 million pounds of carbon dioxide annually, which is the equivalent to the carbon sequestered annually by 1,639 acres of forest.
Imagine that: a town with 4,168 people is saving more than 1,600 acres of forest, just by installing 6,150 modules on a 10-acre plot. It's an accomplishment of which the town can be proud.
In addition to powering the city, it will also power four of the city's non-profits, including the Delmarva Discovery Center, MARVA Theater, Samaritan Shelter and the Worcester County Developmental Center. So the positive effects of the array aren't just theoretical—it helps organizations that provide vital services to its citizens. The array is expected to save more than $52,000 annually—$37,000 a year for the city and $15,000 for the non-profits.
The excitement of the assembled townspeople electrified the event, where the City's head of Economic Development talked about the how the system was going to be a useful tool to promote the innovative nature of the town when businesses were to looking to relocate there.
It's projects like this that remind me why I got into the solar business in the first place—to help people save money and protect the environment at the same time.
By the way, Pocomoke City isn't lying about being the friendliest city on the Eastern Shore. They were exceptional hosts (especially the staff of the Riverside Grill who fed the ravenous attendees with grace and class). And now they can add environmentally friendly to their list of accomplishments.
Congratulations, Pocomoke City. You deserve all of the accolades this array will bring you.