Our team headed into our nation's capital this morning for an event celebrating the completion of a 2,600 panel PV solar system that Standard Solar designed and installed at the Catholic University of America (Phase III). The overall system, which combined with the other two phases we completed for them, is the largest in the District and will generate more than 830,000 kilowatt hours of clean electricity annually, helping the University reach its sustainability goals.
The dedication ceremony was held at the site of one array, a parking facility at O'Boyle Hall, where a canopy of solar panels has been erected and supplies power to an electric car charging station. Along with the parking canopy array covering more than 70 parking spots, three additional installations were completed this summer, which join two others completed in 2009 and 2011.
Officials from the University and local government joined our team to commemorate the day, along with representatives from our partner Washington Gas Energy Systems.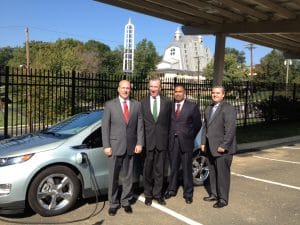 The University has been working toward environmental sustainability for more than a decade, and has taken some very meaningful steps to go along with the commitment to renewable energy, including the construction of a LEED-certified residence hall, and advocating transportation alternatives to reduce car traffic.