We enjoyed a beautiful sunny day this week while visiting the Perdue headquarters in Salisbury, Maryland. The PV system we designed for this facility, combined with the one at Perdue's Bridgeville site, results in one of the largest commercially-owned solar installations in the country, and we're really proud of our involvement with this important project. The partnerships that were forged during the process have become invaluable to us and really serve as a benchmark for the future of these kinds of power installations.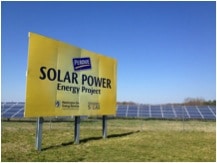 During our visit, we walked around the property, admiring all the work we all put into the site. While watching solar panels "do their thing" isn't action packed, this installation is pretty fascinating – there are more than 5,000 panels, stretching over an impressive 89,000 square feet – silently generating clean, renewable energy all day long.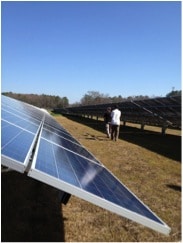 Although solar panels do most of their work during the daytime, we wanted to capture the installation at sunset. The reflection of the sun setting off of a panel is something spectacular! Our photographer Matthew Borkoski thinks he got some great shots. We'll share our favorites soon on our Facebook page.