Last week, we had the opportunity to visit the newly opened Capital Area Food Bank (CAFB) distribution center in northeast Washington. The facility, built to assist more than 478,000 area residents struggling with hunger, will soon reap the benefits of solar power. The 241 kW system that we are installing for them is nearing completion and will produce 300 MWh annually for CAFB, enough to power nearly 18 average homes. The solar energy produced for the building will significantly lower its utility costs, freeing up money that can be used for services.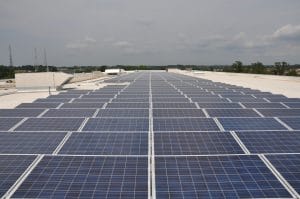 CAFB, founded in 1980, is the largest nonprofit hunger and nutrition education resource in the Washington Metropolitan area. The new facility will double the food bank's capacity, allowing them to store more refrigerated and frozen items like meat, produce and dairy products, as well as provide educational and office space for the organization.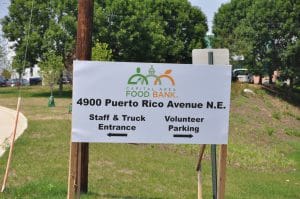 With a large building and refrigeration systems for fresh food that cause high electricity demand, their facility is an excellent example of how solar can work for nonprofits to stabilize energy costs and stretch limited budgets. We are truly inspired by the work the CAFB does, addressing an urgent need for so many, and were happy to work with them on this project.
Come visit the facility and check out the solar array at the dedication ceremony scheduled for October 11 – we hope to see you there!