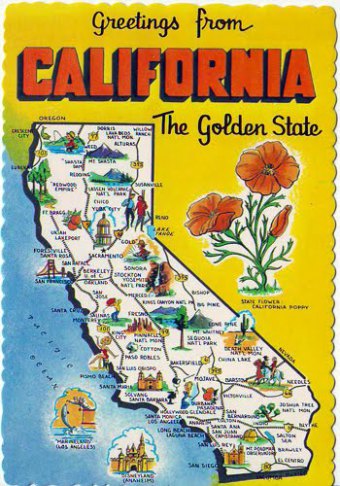 The spotlight's on California this week, as many of us gather in Anaheim for the annual Solar Power International (SPI) Conference. If you're in town, we hope you'll check out Wednesday's General Session, "Executive Perspectives: Opportunities for Growth" featuring Standard Solar CEO Tony Clifford, along with a trio of industry thought leaders. Clifford will also speak on Tuesday, September 15, to encourage the industry and all its supporters to "Join the Fight to Extend the ITC!"
With so many solar leaders descending on California over the next few days, we figured the time was right to highlight the latest policy developments in the state.
In the world of solar, California's kind of a big deal. The state has more solar than most countries – more than Australia, Canada, and India combined, according to the Solar Energy Industries Association (SEIA). Last year, California installed more solar capacity than the sum installed by every other US state, according to a recent report by Environment California Research & Policy Center. Not too shabby! When solar policies change in California, solar developers everywhere – throughout the US and the world – take notice. Here's the lowdown on California solar policy.
Renewable Portfolio Standard – passed
Passed in the last hours of the legislative session, SB 350 ups the renewable requirement from 33 percent by 2020 to 50 percent by 2030. We're disappointed that distributed solar doesn't count towards the highest level of RPS compliance (more on this here), but we still think this is a huge win for solar and the renewable energy industry at large. Besides the boost to renewables, the bill also increases building energy efficiency to 50 percent by 2030. The third component of the original version of the bill, a 50 percent reduction in car oil use over the next 15 years, was stripped from the final version amidst pressure from oil industry groups. Oil reduction is a critical component of any clean energy policy, so we're hopeful this provision will be resurrected in some form in a future session.
Low Income Solar – passed
AB 693 hasn't received as much press as some of these other policies, but its passage this legislative session will play a critical role in opening access to solar. The bill provides $1 billion for low income solar over ten years. The goal is to install 300 megawatts of rooftop solar on multifamily affordable housing projects through 2030.
Carbon Cap – stalled
SB 32, a bill that would have required a 40 percent reduction in carbon emissions below 1990 levels by 2030 and an 80 percent reduction by 2050, got a disappointingly low vote of confident in the California Assembly, with many policymakers abstaining or opposing the bill. The bill will likely be up for another vote soon, but we think the likelihood of passage is slim.
Net Metering 2.0 – uncertain
One of the California policies under scrutiny right now is net energy metering (NEM). When the California Public Utilities Commission (CPUC) solicited comments about how to structure NEM 2.0 this summer, they heard lots of proposals from lots of groups. In one camp are the pro-solar folks (like Standard Solar) who want net metering to more or less stay the same – we see current NEM policies as instrumental to solar's success. California solar can now boast well over 200,000 distributed generation installations, and the industry employs more workers then the state's three major investor-owned utilities (IOUs) combined. In the other camp are the anti-solar folks, largely utilities and their supporters, who claim that current NEM payment structures must be drastically reduced in order to more "fairly" spread the costs of serving solar customers. We've talked in a previous blog post about why this alleged cost disparity simply isn't the case. Since we published that post, Environment America reviewed 11 recent analyses, and confirmed what we already know: that individuals and businesses that decide to "go solar" generally deliver greater benefits to the grid and society than they receive through net metering. The CPUC has until the end of this year to decide on the fate of net metering, though we wouldn't be surprised if the timeline is extended. Our fingers are crossed for the continuation of this vital solar policy in California.
So, there you have it – the good, the bad, and the uncertain. We'll continue to watch California closely to see how things unfold. Uncertainties notwithstanding, we're confident that California will continue to be a great place for solar, and we're planning to get in on the action soon (watch for an announcement on that in the coming months!).